The Jewellery with History - Enhancing the look of Maharashtrian women
The full rivers, the deep sea and the tall mountains have all shaped the cultural and visual aesthetics of Maharashtra. So much so that the Maharashtrian jewellery has a distinct style that pays homage to its heritage. Maharashtrian jewellery is extremely unique that comes with a lot of history (along with shine and sparkle!).
We being mesmerized with the Maharashtrian trends & jewellery listed down 7 jewellery pieces that completes the look of a Maharashtrian woman.
1. Nath
A nath is typical Maharashtrian nosepin adorned with pearls and jewels. Worn by women on her nose at some special occasion such as wedding or a pooja, it completes the traditional look of Maharashtrian women.
One of the famous nath is Bramhani nath studded with basra pearl & emerald that has been famous since the Peshwa rule.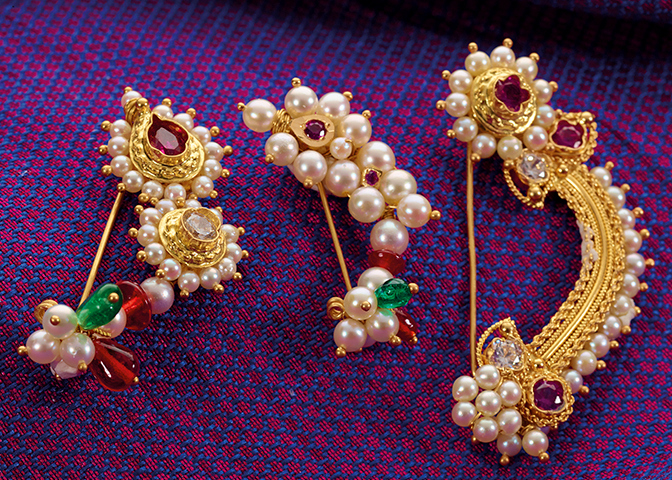 2. Thushi
Thushi is a choker style neckpiece that is influenced from the traditional styles of Kolhapur, in southwest Maharashtra. Gold beads woven together intricately to form layers with a mesh of strings, the necklace is known for its lightweight feel.
This ornament is especially worn by brides and the gold beads are believed to be indicative of the fact that the bride's new home will always be blessed with abundant food.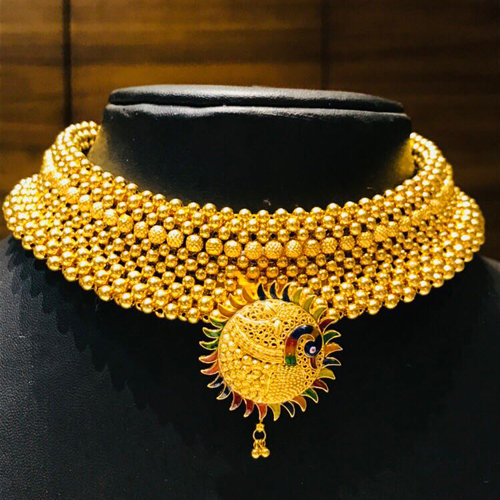 3. Ambada
A 22-karat gold pin worn in the hair by most Maharashtrian brides, ambada veni phool are engraved with different motifs', the most popular being that of a sunflower with jowar beads.
4. Mohan Mala
A long necklace consisting of 2-8 layers of gold beads, Mohan mala is popularly worn as both, bridal and everyday jewellery.
5. Vaaki
Vaaki, also known as armlet or bajuband was traditionally worn on both armlet is now worn only on a single armlet. It resembles a woven mat (chattai). The band is not soldered except where the ruby-set floral motif is placed. Ruby symbolises the sun and the red colour is considered auspicious for Hindu brides.
1. Saaz
This piece of jewellery is so popular that it doubles up as a mangalsutra for some Maharashtrian brides. A symbol of marriage, Kolhapuri saaj is worn by married Maharashtrian women and is a gift from the groom's family. It is named so, as its design's roots lie in Kolhapur. The neckpiece is made of 21 pendants. The main pendant in the centre is known as 'saaj-ghat'.
Kolhapuri Saaj is a combination of this saaj-ghat and the other gold pendants. It consists of 21 pendants placed in in the shape of leaves. Of these 21 pendants, 10 represent the ten avatars of Lord Vishnu, and 8 symbolise auspiciousness (ashtamangal), 1 is a taweez (to protect from evil) and the remaining 2 are ruby and emeralds
7. Tode
An intricately carved gold bangle, each tode weighs 250-300 g. This handmade bangle with interlinked gold rings takes about one month to fabricate. You will find Maharashtrian brides wearing these bangles with a bunch of green coloured glass bangles. Tode is another piece of jewellery which is usually a gift from the groom's family.